Apple Charlotte
By
Paula Deen
JUMP TO RECIPE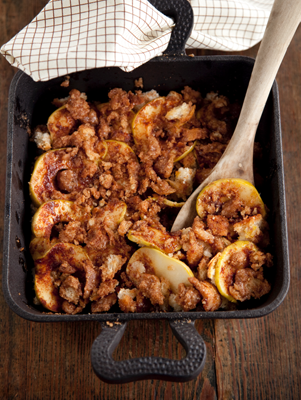 Difficulty: Easy
Prep time: 15 minutes
Cook time: 15 minutes
Servings: 8
Ingredients
1 cup brown sugar
1 tablespoon cinnamon
1 teaspoon nutmeg
1/8 teaspoons mace
5 pared, cored and sliced thin Granny Smith apples
3 fresh zested lemons
6 tablespoons cold, plus 1 stick, melted butter
1 loaf shredded into crumbs, reserve 1 cup French bread
Directions
Preheat oven to 375ºF.
In a bowl, add brown sugar, cinnamon, nutmeg and mace. Mix together. Reserve 1 cup of mixture to be used for topping.
In a separate bowl, mix together apples and lemon zest.
Cover the bottom of Dutch oven pan with bread crumbs and bits of cold butter. Layer bottom with some sliced apples and brown sugar with a few pats of butter on top. Repeat with another layer until the pan is filled.
For the top layer, combine reserved cup of breadcrumbs, melted butter and 1 cup reserved mixture. Sprinkle on top and top with more butter. Bake for 30 minutes until the golden brown.