Grilled Apple, Bacon and Cheddar Sandwich with Roasted Red Onion Mayo
By
Paula Deen
JUMP TO RECIPE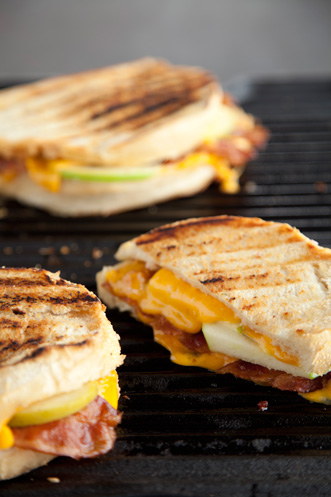 Difficulty: Easy
Prep time: 10 minutes
Cook time: 10 minutes
Servings: 10
Ingredients
2 (1/2-inch thick) slices multigrain or another hearty bread sourdough
4 slices cooked crisp thick-cut bacon
4 slices cheddar cheese
1/2 cored, sliced thin Granny Smith apple
1 medium chopped red onion
2 teaspoons olive oil
1 cup mayonnaise
salt
pepper
Directions
Preheat a seasoned grill pan or griddle over medium heat. Assemble this sandwich just as you would a traditional grilled cheese sandwich: spread 1 slice of bread with some Red Onion Mayo, then top with 2 slices Cheddar, the bacon, the apple slices, then 2 more slices of Cheddar, finishing with another mayo-slathered slice of bread. Butter the outsides of the bread and transfer to the hot grill. Grill about 3 minutes per side, since this sandwich is so thick. Remove to a cutting board and cut the sandwich in half on the diagonal to serve.
Roasted Red Onion Mayo:
Preheat oven to 375 °F.
On a small-rimmed baking sheet, toss the red onion, olive oil, salt and pepper together. Roast in the oven for 25 to 30 minutes until the onion is very soft, stirring occasionally. Remove from oven and let cool. Transfer to a food processor and buzz until finely chopped. Add the mayo and pulse until smooth and combined.