Wild Rice and Oyster Casserole
By
Paula Deen
JUMP TO RECIPE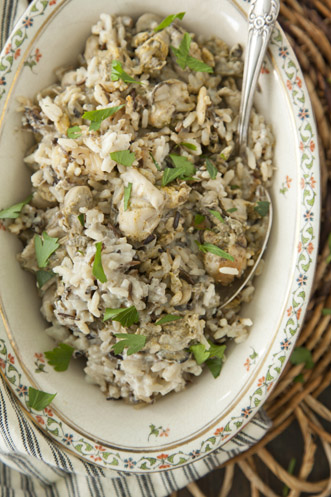 Difficulty: Medium
Prep time: 10 minutes
Cook time: 70 minutes
Servings: 10
Ingredients
for garnishing red pepper flakes
1/2 teaspoon garlic salt
1/2 cup finely minced fresh parsley
1 1/2 teaspoons onion powder
1 cup half and half
1 (10.75 oz) can cream of mushroom soup
salt and pepper
2 quarts very well drained oysters
4 dashes Paula Deen Hot Sauce
3/4 cup (1 1/2 sticks) divided butter
1 box raw long grain wild rice
2 1/2 cups water
1 (10.75 oz) can beef broth
Directions
Preheat the oven to 350 °F.
In a saucepan, bring the beef broth and water to a boil. Add the rice, bring to a boil again, reduce heat, and simmer covered for 25 minutes. Drain any liquid remaining. Add 1/2 cup of the butter and hot sauce and stir; fluff with a fork.
Sauté the drained oysters in 1/4 cup of the butter over medium-high heat until the edges curl, approximately 3 to 5 minutes. Remove the oysters with a slotted spoon; set aside. Place half of the rice in a greased 13 by 9 by 2-inch baking dish. Cover it with oysters and sprinkle with hot sauce and salt and pepper, to taste. Top with the remaining rice.
In a saucepan, heat the mushroom soup over medium heat. Add the half-and-half, onion powder, and garlic salt. Pour over the oyster mixture. Bake for 35 to 40 minutes, until golden brown and bubbling. Garnish with parsley and red pepper flakes.