Baked Sticky Honey Chicken
By
Deen Brothers
JUMP TO RECIPE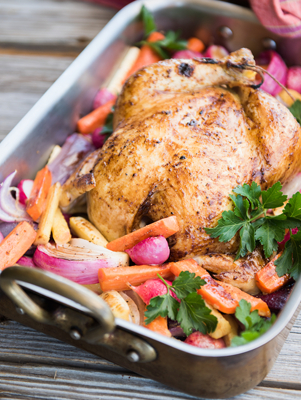 Difficulty: Easy
Prep time: 15 min
Cook time: 40 min
Servings: 3-4 servings
Ingredients
Nonstick cooking spray
One 3-pound chicken
Kosher salt and freshly cracked black pepper
1/4 cup honey
1/4 cup Dijon mustard
1/2 stick melted butter
Juice of 1 lemon
Directions
Preheat the oven to 350 degrees F. Line a rimmed baking sheet or with foil and spray with nonstick spray.
Sprinkle the chicken on both sides with salt and pepper.
Combine the honey, mustard, melted butter and lemon juice in a large bowl. Toss the chicken through the mixture and place skin-side up on the prepared baking sheet. Sprinkle with more salt and pepper. Tie legs together with cooking twine, if desired.
Bake until the chicken is fully cooked and an instant-read thermometer reads 165 degrees F, about 40 minutes.
Make this dish a meal by roasting vegetables with the chicken in a roasting pan instead of a baking sheet. Surround the chicken with your favorite root vegetables, like carrots, parsnips, radishes, and red onion and bake as directed.