Shrimp and Wild Rice Casserole
By
Paula Deen
JUMP TO RECIPE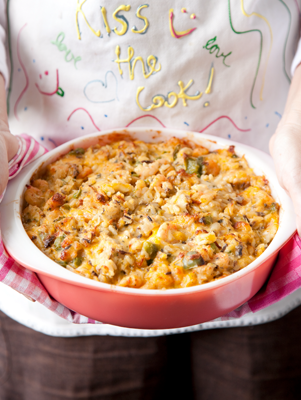 Rich and creamy is the perfect description for this shrimp and rice casserole. This easy recipe calls for cream of mushroom soup, onions, bell pepper, medium
Show more
Rich and creamy is the perfect description for this shrimp and rice casserole. This easy recipe calls for cream of mushroom soup, onions, bell pepper, medium shrimp, wild rice and cheddar cheese. Your family or guests will crave this casserole!
Difficulty: Easy
Prep time: 15 minutes
Cook time: 40 minutes
Servings: 6
Ingredients
1 (10¾ ounce) can condensed cream of mushroom soup
1/2 onion, chopped
1/2 green bell pepper chopped
2 tablespoons butter
1 lb medium shrimp, peeled and deveined
1 package wild rice
2 cups grated sharp cheddar cheese
Directions
Cook the rice according to package directions minus 1/4 cup water. Let cool.
Bring 2 cups water and 1/2 tablespoon salt to a boil in a medium saucepan and cook the shrimp for 1 minute. Drain immediately and set aside.
Heat the butter in saucepan and saute the pepper and onion until soft, about 5 minutes.
Preheat oven to 325 degrees.
In a large bowl, combine the rice, soup, 1 1/2 cups of cheese, shrimp and vegetables. Add salt and pepper to taste. Mix well. Spray a 9 inch square aluminum cake pan or an 11 by 7 inch glass casserole dish with vegetable spray. Place the mixture in the pan and top with remaining 1/2 cup cheese. Bake for 30 minutes, until bubbly.