Veggie Mac and Cheese Casserole
By
Deen Brothers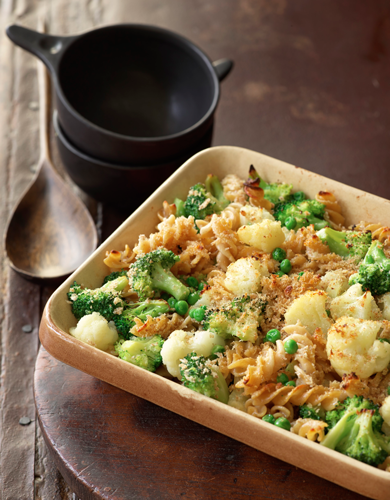 Prep time:

20 minutes

Cook time: 25 minutes
Servings: 6
Ingredients
1/4 cup fat-free Greek yogurt
1 teaspoon Dijon mustard
1/2 teaspoon salt
1 teaspoon freshly ground black pepper
1/4 cup Gruyère cheese, shredded
3 tablespoons Parmesan cheese, grated
1 head cauliflower (about 1 pound)
1 large head broccoli (about 1 3/4 pounds)
1 13 1/4-ounce package whole-grain fusilli
1 cup fresh or frozen green peas
2 tablespoons whole-wheat panko breadcrumbs
Directions
Preheat the oven to 425°F. Grease an 8-inch square baking dish with cooking spray.
In a small bowl, whisk together the yogurt, mustard, salt, and 1/2 teaspoon of the pepper. Stir in the Gruyère and Parmesan.
Bring a large pot of salted water to a boil over high heat. Add the cauliflower and broccoli and cook until just tender, about 5 minutes. Remove the vegetables from the water with a slotted spoon, and transfer them to a large bowl.
Return the water to a boil, add the pasta, and cook according to the package directions. About a minute before the pasta is finished cooking, add the peas and cook until heated through. Drain the peas and pasta, reserving 1 cup of the pasta cooking water, and transfer them to the bowl containing the cauliflower and broccoli.
Add the yogurt mixture and 1/2 cup of the pasta cooking water to the pasta and veggie mixture, and stir until the cheese is melted and the mixture is well combined; add more pasta water if it seems a little dry. Transfer the mixture to the prepared baking dish, and sprinkle with the panko and the remaining 1/2 teaspoon pepper. Bake until the cheese is bubbly, about 10 minutes.