Baked Veggie Egg Rolls
By
Deen Brothers
JUMP TO RECIPE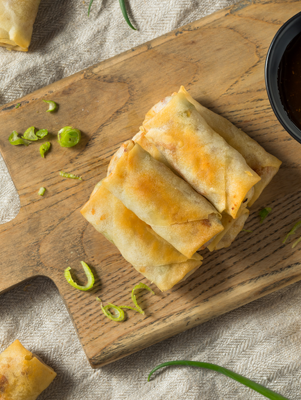 Difficulty: Easy
Prep time: 45 min
Cook time: 20 min
Servings: 4 servings
Ingredients
Nonstick cooking spray
2 tablespoons toasted sesame oil
2 tablespoons reduced-sodium soy sauce
1 tablespoon minced fresh ginger
1 tablespoon hoisin sauce
1 clove garlic
2 tablespoons canola oil
1 1/2 cups broccoli slaw
1 1/2 cups julienned sweet potatoes
3 green onions
Two 16-ounce packages egg roll wrappers
1 banana
1/2 cup reduced-sodium soy sauce
3 tablespoons freshly squeezed lime juice
2 tablespoons toasted sesame seeds
Directions
For the rolls: Preheat the oven to 350 degrees F. Spray a large baking sheet with nonstick cooking spray and set aside. Mix together the sesame oil, soy sauce, ginger, hoisin and garlic in a small bowl or measuring cup. Heat the canola oil in a large skillet or wok. Add the broccoli and sweet potatoes and cook for 2 to 3 minutes. Add the soy sauce mixture and green onions and continue to cook, tossing frequently, until the vegetables are wilted, 4 to 5 minutes.
Place 1 egg roll wrapper on a clean flat surface with one corner pointing towards you. Rub around the edges of the wrappers using the banana. Spoon 1/4 cup of the filling into the center of each egg roll wrapper. Fold the bottom corner of the wrapper over the filling. Fold left and right corners over filling. Tightly roll the filled end towards the remaining corner, pressing gently to seal. The end result should look like an envelope. Transfer the rolls to the prepared sheet and brush with canola oil. Bake, turning once halfway through, until golden brown, 12 minutes.
For the dipping sauce: Meanwhile, whisk together the soy sauce, lime juice and sesame seeds.
Serve the rolls with the dipping sauce.