Vegetarian Pizza
By
Paula Deen
JUMP TO RECIPE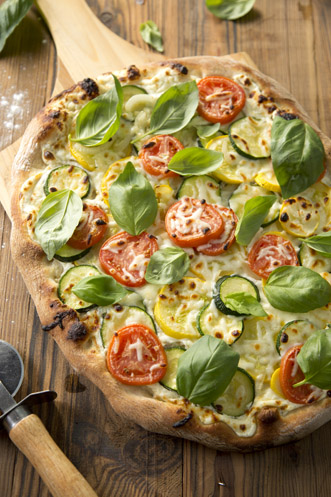 Difficulty: Medium
Prep time: 85 minutes
Cook time: 26 minutes
Servings: 30
Ingredients
Crust
1 1/2 teaspoons active dry yeast
1 1/2 teaspoons Kosher salt
2 1/2 cups all purpose flour, plus more for dusting
1 tablespoon sugar
1 teaspoon Italian seasoning
1 tablespoon olive oil
1/4 cup cornmeal
Topping
1 sweet onion, thinly sliced
1 medium yellow squash, sliced
1 medium zucchini, sliced
1/2 cup ranch dressing
1/2 cup sour cream
4 roma tomatoes sliced
1 cup fresh basil leaves
2 cloves garlic, minced
1/2 cup mozzarella cheese, shredded
1/2 cup Parmesan cheese, shredded
1 8-ounce package cream cheese, softened
Directions
Crust
Preheat the oven to 350 °F for 5 minutes. Turn the oven off.
In a large bowl, whisk together 1 cup warm water (105 to 115 °F), yeast and salt; let stand for 5 minutes. Stir in the flour, sugar, Italian seasoning and oil. Loosely cover, and let rise in a warm oven until the dough is doubled in size, about 1 hour. Remove the dough from the oven.
Sprinkle some cornmeal on a 14-inch pizza pan. Turn the dough out onto a lightly floured surface and knead 6 to 8 times. Pat the dough onto the prepared pizza pan to make a 14-inch pizza crust. Let rise in a warm place (about 85 °F), free from drafts, for 20 minutes.
Meanwhile, preheat the oven to 450 °F.
Bake the pizza crust until no longer wet, about 8 minutes. Remove from the oven, and let cool for 10 minutes.
Topping
In a large saucepan, heat the oil over medium heat. Add the onions, squash and zucchini and sauté until lightly browned, about 10 minutes.
Combine the cream cheese, ranch dressing, sour cream and a pinch of salt and pepper. Spread the cheese mixture evenly over the pizza crust, leaving a 1-inch border. Arrange the vegetables and the tomatoes over the cheese, then top with basil leaves. Sprinkle with 1/4 teaspoon salt, 1/4 teaspoon pepper and garlic. Top with the mozzarella and Parmesan and bake directly on the oven rack until golden, about 8 minutes. Remove from the oven, and transfer to a cutting board. Cut into wedges.
Cook's Note: You can use store bought pizza dough for this recipe.