Veggie Pizza Minis
By
Paula Deen
JUMP TO RECIPE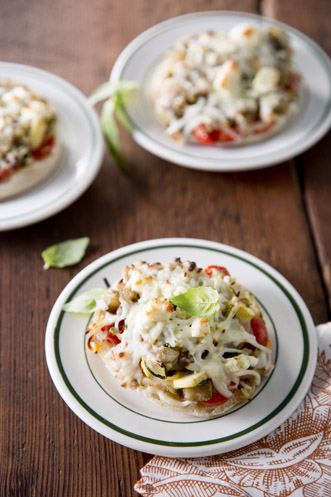 Difficulty: Easy
Prep time: 10 minutes
Cook time: 35 minutes
Servings: 10
Ingredients
1/4 cup fresh basil, shredded
1/3 cup feta cheese, crumbled
1/2 cup mozzarella cheese, grated
3/4 cup grape tomatoes, halved
3 English muffins, sliced in half
2 tablespoons extra virgin olive oil
3 cups eggplant, diced
1/4 Vidalia onion, sliced
1 small yellow squash, thinly sliced
1 small zucchini, grated
1 tablespoon balsamic vinegar
3/4 teaspoon Greek seasoning
Directions
Preheat oven to 400 °F.
Heat 1 tablespoon of olive oil in a skillet and add tomatoes. Cook until tomatoes are softened. Add salt to taste.
Spoon cooked tomatoes evenly over English muffin halves. In a skillet, sauté eggplant and onions in 1 tablespoon of olive oil. Add squash and zucchini and cook until tender. Do not over cook, since they will cook some more in the oven. Add salt and pepper to taste. Spoon sautéed vegetables evenly over the tomatoes. Sprinkle each mini pizza with balsamic vinegar. Top with mozzarella and feta cheese. Sprinkle pizza with Greek seasoning and basil.
Bake 25 minutes, or until cheese is melted and crust is lightly browned.