Veal Loin Stuffed with Roasted Bell Peppers, Goat Cheese, and Basil
By
Paula Deen
JUMP TO RECIPE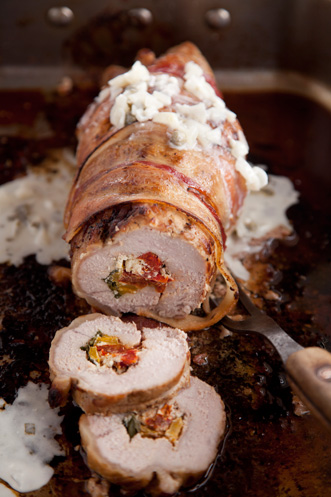 Difficulty: Medium
Prep time: 410 minutes
Cook time: 45 minutes
Servings: 8
Ingredients
2 large yellow bell peppers, roasted
1 (3-oz) package cream cheese with chives, at room temperature
1 (5.3-oz) package basil and roasted garlic goat cheese or 6 ounces soft fresh herb-flavored goat cheese, at room temperature
1 bunch arugula, stems trimmed
16 large fresh basil leaves
1 (3-lb) boneless veal loin
Paula Deen's House Seasoning
14 oil-packed sun-dried tomatoes, drained
8 bacon slices
2 tablespoons plus 1 stick butter, for sauce
olive oil
salt, to taste
black pepper, to taste
2 3/4 cups chicken broth
3 medium shallots, finely chopped
1/4 cup lemon juice
2 tablespoons capers
2 tablespoons fresh parsley, chopped
Directions
Char the peppers over a gas flame or in the broiler, turning until blackened on all sides. Place peppers in a paper bag for 10 minutes to loosen the skins. Peel, seed, and stem the peppers. Cut lengthwise into strips. Set aside.
Stir the cream cheese and goat cheese in a small bowl until blended. Set aside.
Plunge the arugula and basil into hot water with tongs. Remove immediately, drain, and place into a bowl of ice water to blanch and shock.
Slice the veal open like a book and cover with plastic wrap. With a meat pounder or rolling pin gently pound the veal to approximately a 10 by 12-inch rectangle of even thickness. Season with House Seasoning, as desired.
Overlap the arugula leaves down the center of the veal forming a 2-inch wide strip. Cover with half of the pepper strips, skinned side up. Arrange the sun-dried tomatoes in 2 rows on top of the peppers.
Set aside 1/4 cup of the cheese mixture for the sauce. Spoon the remaining cheese mixture in an even log over the tomatoes. Arrange the remaining pepper strips, skinned side up, over the cheese. Arrange the basil leaves over the peppers.
Fold 1 long side of the veal over the filling. Roll up the veal jelly roll style and secure by tying with string. Wrap the string lengthwise around the veal to secure ends. Cover the ends of the veal with aluminum foil to enclose the filling completely. Cover the veal and the reserved cheese separately and chill for at least 6 hours. Can be prepared 1 day ahead.
Preheat oven to 375 °F.
Melt 2 tablespoons of the butter and olive oil in a heavy large shallow roasting pan over medium-high heat. Season the veal with salt and pepper. Brown the veal on all sides, turning frequently, about 10 minutes. Remove the pan from heat. Drape the bacon over the veal and tuck in the ends.
Place the veal in the oven and roast until a thermometer inserted into the center of the meat (not the filling) registers 140 °F, about 45 minutes. Transfer to a work surface and let stand for 15 minutes.
Sauce:
Combine the broth and shallots in a heavy medium saucepan. Boil over high heat until the mixture is reduced to 1/2 cup, about 20 minutes
Whisk in the lemon juice, capers, and parsley. Reduce the heat to low; gradually whisk in 1/2 cup butter (1 stick, cut into pieces, at room temperature) and reserved cheese mixture. Season the sauce with salt and pepper, to taste.
To serve, remove the tinfoil from the ends of the roast, the bacon and the string. Cut the veal roast crosswise into even slices. Spoon a few tablespoons of sauce onto each plate. Top with 2 veal slices.