Glazed Baby Carrots
By
Paula Deen
JUMP TO RECIPE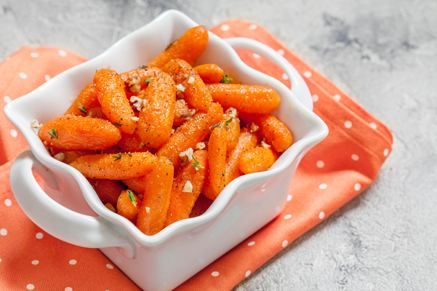 Difficulty: Easy
Prep time: 5 minutes
Cook time: 5 minutes
Servings: 5
Ingredients
1 stick butter
1 1/2 lb peeled and trimmed baby carrots with tops
1/2 cup apple juice
3/4 cup firmly packed light brown sugar
1 teaspoon dijon mustard
1 teaspoon salt
1/4 teaspoon smoked paprika
Directions
In a large Dutch oven, melt 2 tablespoons of the butter over medium-high heat. Add half of the carrots and cook, stirring occasionally, until the carrots are lightly browned, about 3 minutes. Remove from the pan and set aside. Repeat with 2 more tablespoons of the butter and the remaining carrots.
Stir the apple juice into the pan, scraping any browned bits from the bottom of the pan with a wooden spoon. Cook over medium heat until the liquid is reduced by half, about 6 minutes. Stir in the sugar, mustard, salt, paprika and the remaining 4 tablespoons butter. Cook, stirring constantly, until the sugar dissolves and the mixture is smooth, about 3 minutes.
Add the carrots to the sugar mixture, turning to coat. Bring to a low boil, and cook until the carrots are tender, about 15 minutes.