Vanilla Malt Cupcakes
By
Stefani Pollack
JUMP TO RECIPE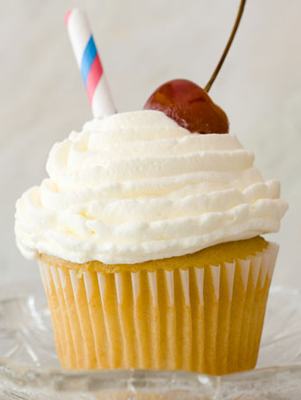 Difficulty: Easy
Prep time: 10 minutes
Cook time: 20 minutes
Servings: 16
Ingredients
¾ cup sugar
½ cup malted milk powder
1¾ cups cake flour, not self-rising
1½ teaspoons baking powder
½ teaspoon baking soda
½ teaspoon salt
½ cup unsalted butter, room temperature
1 tablespoon vanilla extract
2 large eggs, room temperature
¾ cup whole milk
whipped cream, to taste
16 maraschino cherries
Directions
Preheat oven to 350˚F.
In a medium-sized mixing bowl, whisk together sugar, malted milk powder, cake flour, baking powder, baking soda, and salt.
Add butter and vanilla and mix until light and fluffy (about three minutes on high speed when using an electric mixer). Mix in eggs until just combined. Slowly mix in milk until just combined.
Fill cupcake liners ¾ full.
Bake for 20 minutes or until cupcakes bounce back when lightly touched.
Top each cooled cupcake with whipped cream and a maraschino cherry.