Bellini Cupcakes
By
Stefani Pollack
JUMP TO RECIPE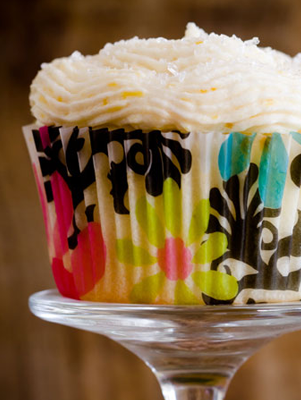 Difficulty: Medium
Prep time: 30 minutes
Cook time: 20 minutes
Servings: 12
Ingredients
Bellini Cupcakes
3 large egg whites room temperature
1 cup Champagne
1½ cups cake flour
¾ cup sugar
2 teaspoons baking powder
¼ teaspoon salt
½ cup unsalted butter, room temperature
Filling & Frosting
1 (15-ounce) can sliced peaches
½ cup + 2 tablespoons unsalted butter, room temperature
3 cups powdered sugar
2 teaspoons vanilla extract
¼ teaspoon salt
white sanding sugar, for topping
Directions
Bellini Cupcakes
Preheat oven to 350˚F.
In small bowl, mix egg whites and champagne.  Set aside.
In a medium-sized bowl, whisk together cake flour, sugar, baking powder, and salt. Mix butter into dry ingredients until it resembles moist crumbs. Mix wet ingredients into dry ingredients until fully combined.
Divide evenly between twelve cupcake liners. Bake for 20 minutes or until cupcakes bounce back when lightly touched.
Filling & Frosting
Melt two tablespoons of butter in a medium-sized skillet on medium heat.
Drain and discard liquid from peach can. Use a towel to pat dry the peach slices, removing excess moisture. Place the peaches in a single layer in the hot skillet. Cook for about three minutes or until the bottom side is browned, then flip. Repeat until all sides of the peaches are browned. Remove peaches from skillet and cool.
Use a food processor or immersion blender to puree the peaches.
Use a small paring knife or cupcake corer to remove a piece of cake from the center of each cooled cupcake.  (You will not need the pieces that you remove, so feel free to eat them!)
Fill each hole with approximately two teaspoons of the peach puree.
In the bowl of an electric mixer, beat butter on high speed for five minutes. Slowly mix in the powdered sugar and beat for another five minutes. Mix in vanilla extract, salt, and ¼ cup of peach puree and beat for two minutes.
Pipe onto cupcakes using Wilton tip 4B. Sprinkle cupcakes with white sanding sugar.