Ooey Gooey Chocolate Ice Cream Cake
By
Paula Deen
JUMP TO RECIPE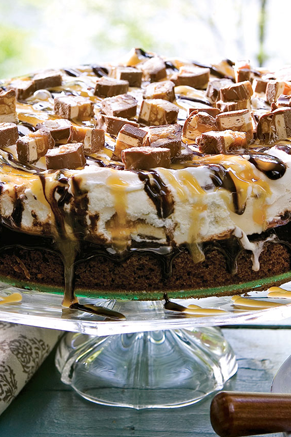 Difficulty: Medium
Prep time: 60 minutes
Cook time: 60 minutes
Servings: 60
Ingredients
1 cup butter
8 (1 oz) squares semi-sweet chocolate
8 1-ounce squares semi-sweet chocolate
1 cup sugar
5 large eggs
1/2 cup all purpose flour
1/2 gallon softened vanilla ice cream
6 (2.07 oz) chopped and divided chocolate candy bars
6 2.07-ounce can chopped and divided Snickers dy bars
3/4 cup chocolate sauce
3/4 cup chocolate sauce and caramel sauce chocolate sauceGarnish
Directions
1. Preheat oven to 350 °F
2. In a large bowl, combine butter and chocolate. Microwave at high (100% power) in 30 second intervals, stirring after each, until chocolate is melted and smooth. Whisk in sugar. Add eggs, one at a time, whisking well after each addition. Whisk in flour until smooth. Pour batter into an ungreased 10-inch springform pan. Place pan on a rimmed baking sheet. Bake for 25 minutes. Let cool completely.
3. In a large bowl, combine ice cream and half of chopped candy bars.
4. Spread chocolate sauce evenly over cake layer. Spread ice cream mixture over chocolate sauce. Cover and freeze for 4 hours, or until firm. Drizzle cake with chocolate sauce and caramel sauce, if desired. Sprinkle with remaining chopped candy bars.