Tomato Tarts
By
Paula Deen
JUMP TO RECIPE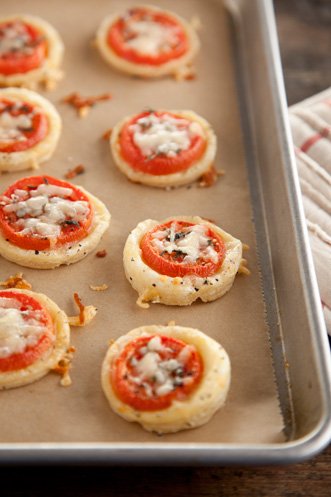 Difficulty: Easy
Prep time: 15 minutes
Cook time: 15 minutes
Servings: 15
Ingredients
1 sheet frozen puff pastry
for rolling all purpose flour
for brushing olive oil
1/2 cup grated white cheddar cheese
4 or 5 cut into 1/4-inch slices plum tomatoes
salt
ground black pepper
2 tablespoons chopped fine fresh thyme
1/2 cup freshly grated Parmesan cheese
Directions
Preheat the oven to 375 °F. Spray a baking sheet with vegetable oil cooking spray.
Remove the puff pastry from the freezer and allow it to thaw for 20 minutes.
Unfold the pastry on the counter and roll down, using enough flour to prevent sticking. Brush the dough with olive oil and, using a 1 1/2 or 2-inch biscuit cutter, cut out rounds of dough. Place the puff pastry rounds on the prepared baking sheet and poke the surface of the pastry with a fork. Top each round with a small amount of the cheddar, then with a tomato slice. Sprinkle salt and pepper to taste over the tomato, and then sprinkle on a pinch of thyme and about 1 teaspoon of Parmesan. Bake for about 15 minutes. Let cool for 2 to 3 minutes before serving.