Bite-Size Tomato and Mozzarella Tarts
By
Deen Brothers
JUMP TO RECIPE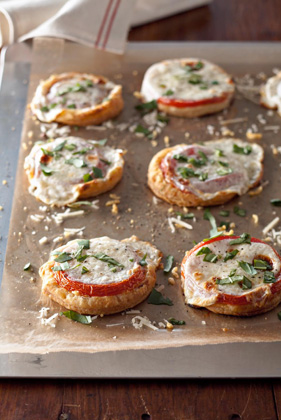 Featured in:
The Deen Bros. Y'all Come Eat
Difficulty: Easy
Prep time: 15 minutes
Cook time: 14 minutes
Servings: 8 or 9 tarts
Ingredients
All-purpose flour for dusting
1 sheet frozen puff pastry from a 17 1/2-ounce package
1 1/2 tablespoons freshly grated Parmesan cheese
1 large plum tomato
Salt and freshly ground black pepper
3 ounces fresh mozzarella
1 tablespoon chopped fresh basil
Directions
Preheat oven to 400°F. Line a baking sheet with parchment paper; set aside.
On a lightly floured surface, unfold the pastry. Using a 3-inch round cookie cutter, cut out 8 or 9 rounds; place rounds on the prepared baking sheet. Prick the pastry rounds all over with a fork. Bake rounds for 5 minutes. Remove from oven.
Sprinkle each with about 1/2 teaspoon Parmesan, then top with a tomato slice and season with salt and pepper to taste. Lay a slice of mozzarella on top of each tomato. Bake for 12 to 14 minutes or until puffed and golden. Sprinkle each tart with basil and serve warm.