Tomato and Mozzarella Tarts
By
Paula Deen
JUMP TO RECIPE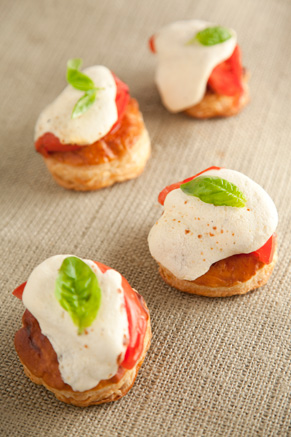 Difficulty: Easy
Prep time: 10 minutes
Cook time: 10 minutes
Servings: 10
Ingredients
for dusting all purpose flour
1 frozen thawed (from a 17 1/2 oz package) puff pastry sheet
1 1/2 tablespoons freshly grated Parmesan cheese
1 large thinly sliced plum tomato
8 to 9 leaves fresh basil
3 oz very thinly sliced, about 8 or 9 slices fresh mozzarella cheese
salt
black pepper
Directions
Preheat oven to 400 °F. Line a baking sheet with parchment paper and set aside.
On a lightly floured surface, unfold the pastry. Using a 3-inch round cookie cutter, cut out 8 or 9 rounds; place rounds on the prepared baking sheet. Prick the pastry rounds all over with a fork. Sprinkle each with about 1/2 teaspoon Parmesan. Bake rounds for 5 minutes. Remove from oven.
Top each tart with a slice of tomato, basil leaf and mozzarella slice. Bake for 10 minutes or until puffed and golden. Season with salt and pepper, to taste, and serve.