Taco Pie
By
Jamie Deen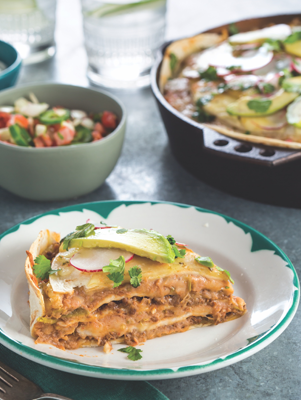 Prep time:

20 minutes

Cook time: 30 minutes
Servings: 6 to 8
Ingredients
1 pound ground beef
½ cup red enchilada sauce
½ teaspoons Kosher salt
½ teaspoons ground cumin
½ teaspoons ground chipotle chile pepper
½ teaspoons chili powder
½ teaspoons ground black pepper
1 (16-ounce) can refried beans
1 (4-ounce) can diced green chiles
8 (10-inch) flour tortillas
2 cups shredded cheddar-jack cheese, divided
pico de gallo, for serving
sour cream, for serving
avocado, for serving
radishes, for serving
fresh cilantro, for serving
Directions
Preheat oven to 350˚F.
In a 10-inch ovenproof skillet, cook beef over medium heat until browned and crumbly; drain. Transfer to a large bowl; stir in enchilada sauce, salt, cumin, chipotle chile pepper, chili powder, and black pepper. Wipe skillet clean.
In a medium bowl, stir together refried beans and green chiles.
Cut 3 tortillas in half. Line sides of skillet with halved tortillas, rounded edges up. Place 1 tortilla in bottom of skillet. Spoon half of beef mixture onto tortilla, and sprinkle with ½ cup of cheese. Top with another tortilla, and spread half of bean mixture on top. Repeat layers once with a tortilla between each layer. Top with remaining tortilla, and sprinkle with remaining 1 cup cheese.
Bake until hot and bubbly, about 20 minutes. Let stand for 10 minutes. Serve with pico de gallo, sour cream, avocado, radish, and cilantro.