Five Layer Taco Dip
By
Paula Deen
JUMP TO RECIPE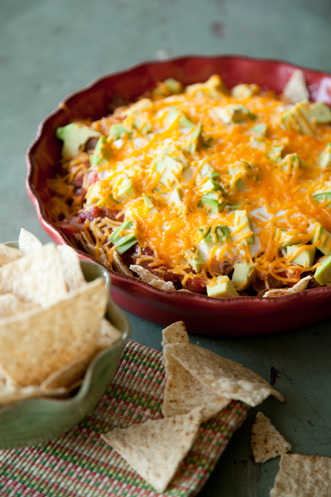 Difficulty: Easy
Ingredients
1 tablespoon olive oil
1 1/2 cups crushed and divided tortilla chips
1 lb ground beef
1 1.25-ounce packet or homemade Taco Seasoning, recipe follows taco seasoning mix
1 cup prepared salsa
1 cup sour cream
1 halved, peeled, pitted, and cubed avocado
1 cup 4 ounces grated extra-sharp cheddar
1 tablespoon chili powder
2 teaspoons onion powder
1 teaspoon ground cumin
1 teaspoon garlic powder
1 teaspoon paprika
1 teaspoon dried oregano
1 teaspoon sugar
1/2 teaspoon salt
Directions
Heat the oil in a large skillet over medium-high heat. Preheat the broiler.
Spray a broiler-proof 9-inch pie plate with nonstick cooking spray. Spread 1 cup of the crushed chips over the bottom of the pie plate.
Brown the beef in the skillet, breaking it up with a fork, until the meat is no longer pink, 5 to 7 minutes. Pour off the drippings and add the taco seasoning. Continue cooking, stirring occasionally, until most of the liquid has evaporated. Transfer the meat to the pie plate, spreading it on top of the chips.
Spread the salsa over the meat and then the sour cream over the salsa. Scatter the avocado cubes over the sour cream. Top with the cheese. Broil 4 inches from the heat until the cheese is melted and bubbling, 3 to 5 minutes, watching carefully to see that the cheese doesn't burn. Top with the remaining tortilla chips. Serve hot.
Taco Seasoning:
In a small bowl, combine the chili powder, onion powder, cumin, garlic powder, paprika, oregano, sugar, and salt. Use immediately, or store in an airtight container at room temperature for up to 6 months.