Baked Enchilada Pie
By
Paula Deen
JUMP TO RECIPE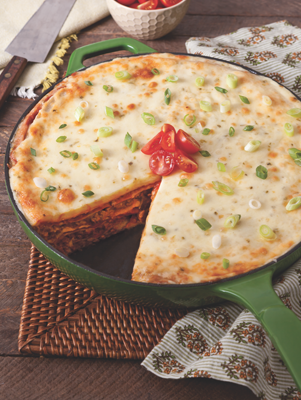 Featured in:
At the Southern Table
Get your copy of At the Southern Table with Paula Deen here.
Difficulty: Easy
Prep time: 15 minutes
Cook time: 40 minutes
Servings: 4-6
Ingredients
1 pound ground beef
1 (1.25-ounce) package taco seasoning
2 tablespoons butter
1 chopped medium onion
2 tablespoons minced garlic
1/2 cup chopped green onion
1 (4-ounce) can drained chopped green chiles
1 (10.75-ounce) can cream of onion soup
1 (16-ounce) can refried beans
1 cup red enchilada sauce
5 (12-inch) flour tortillas
2 1/2 cups shredded Monterey Jack cheese with peppers
Garnish: chopped green onion
Garnish: chopped tomatoes
Directions
Preheat oven to 350°.
In a 12-inch cast-iron skillet, cook beef and taco seasoning over medium heat, stirring frequently, until browned and crumbly; drain. Transfer to a large bowl.
In same skillet, melt butter. Add onion, garlic, and green onion; cook until tender, about 5 minutes. Stir in green chiles and soup until well combined. Stir onion mixture into beef mixture in bowl.
Wipe skillet clean with a paper towel. Lightly spray skillet with cooking spray. In a medium bowl, stir together beans and enchilada sauce until well combined.
Add 1 tortilla to skillet, and top with half of meat mixture. Top meat mixture with 1 tortilla and half of bean mixture. Repeat layers once, and top with remaining tortilla. Sprinkle with cheese.
Bake until hot and bubbly, about 30 minutes. Let stand for 10 minutes before serving. Garnish with green onion and tomato, if desired