Taco Chili with Mix
By
Paula Deen
JUMP TO RECIPE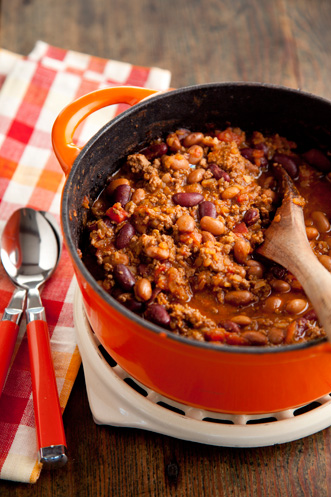 Difficulty: Medium
Prep time: 10 minutes
Cook time: 10 minutes
Servings: 10
Ingredients
1 (16 oz) can tomato sauce
1 (11 3/4 oz) can diced tomatoes and green chilies
4 cups water
1 jar taco chili mix
1 lb cooked and drained ground beef
1 cup dried kidney beans
1/2 cup dried pinto beans
1 (1 1/4 oz) package taco seasoning mix
1 (1 oz) package buttermilk salad dressing mix
1/3 cup dried minced onion
1 tablespoon chili powder
1/4 teaspoon ground cumin
1 1/2 cups tortilla chips
Directions
For the mix:
In a 1-quart wide mouth jar, layer kidney and pinto beans.
In a small bowl, combine taco seasoning mix, dried salad dressing mix, onion, chili, powder and cumin. Wrap seasonings in plastic wrap or cellophane and place in jar.
Put chips in a bag and place in jar. Decorate with ribbon or fabric.
For the chili:
Place beans in a large bowl, cover with water and soak 6 to 8 hours, or overnight. Drain and add to a Dutch oven. Add seasoning packet, water, diced tomatoes and green chilies, tomato sauce and ground beef.
Heat to boiling, cover and reduce heat to low. Simmer for 2 hours, or until beans are tender. Serve with corn or tortilla chips.