Sugar Ray's Body Blow Ribs
By
Paula Deen
JUMP TO RECIPE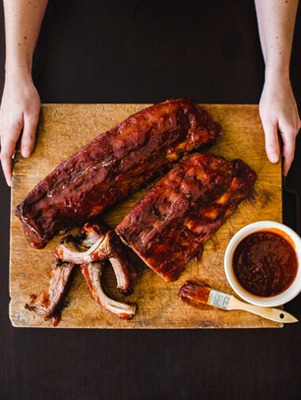 Difficulty: Easy
Prep time: 8 hours
Cook time: 175 minutes
Servings: 4
Ingredients
Ribs
2 slabs (about 5 pounds) baby back ribs
Dry Rub
1 1/2 cups dark brown sugar
1 1/4 cups sugar
1/2 cup salt
1/4 cup black pepper
1/4 cup paprika
BBQ Sauce
2 teaspoons sugar
1 tablespoon paprika
baby back ribs
2 cups ketchup
2/3 cup brown sugar
1/4 cup cider vinegar
2 tablespoons molasses
1 tablespoon Worcestershire sauce
2 teaspoons dry mustard
1 teaspoon onion powder
1 teaspoon garlic powder
1/2 teaspoon crushed red pepper flakes
Directions
Combine all the ingredients for the dry rub in a small mixing bowl. Rub the ribs with the dry rub. Wrap in plastic wrap and let marinate in refrigerator for 8 hours or overnight.
Preheat oven to 275 °F.
Place ribs on a large baking sheet lined with aluminum foil. Cover tightly with foil and place in middle rack of oven. Let roast for 2 1/2 hours.
For the BBQ Sauce:
Add all the ingredients to a medium saucepan. Bring to a boil then reduce to a low simmer. Let simmer for 25 minutes, on low heat, stirring occasionally.
Preheat grill to medium heat.
Take ribs out of the oven and place on grill to finish. Cook for 20 more minutes, turning and basting with sauce. Remove from grill and serve as either racks or cut into ribs.
*Cook's Note: 2 slabs of Baby Back Ribs equates to 4 racks of ribs