Southern Cornbread Salad
By
Paula Deen
JUMP TO RECIPE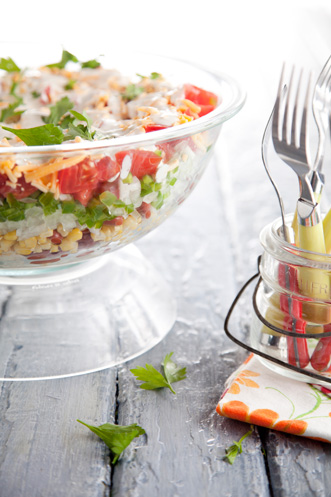 Difficulty: Easy
Prep time: 15 minutes
Cook time: 15 minutes
Servings: 15
Ingredients
1 batch cut into 1-inch cubes, recipe follows cornbread
1 (14 oz) can rinsed and drained red kidney beans
1 (15 oz) can drained niblet corn
1 medium finely chopped Vidalia onion
1 large finely chopped green bell pepper
3 large chopped tomatoes
2 cups grated, plus 1 cup (optional) sharp cheddar cheese
1 (8 oz) bottle ranch dressing
1/2 cup plus 1/4 cup for greasing pan vegetable oil
1 cup self rising cornmeal
3/4 cup self rising flour
1 cup cream-style corn
2 eggs
1 cup sour cream
chopped for garnish fresh parsley
1/2 teaspoon optional cayenne pepper
Directions
In the bottom of a large glass bowl, place cornbread cubes. Layer beans, corn, onion, bell pepper, tomatoes and 2 cups cheese on top of cornbread. Spread ranch dressing evenly over cheese. Cover, and refrigerate for at least 2 hours. Garnish with fresh parsley, if desired.
Cornbread:
Preheat oven to 375 °F.
Generously season a cast iron skillet with up to 1/4 cup vegetable oil. Preheat the pan either in the oven or on the stove over medium-high heat.
Mix 1/2 cup oil, cornmeal, flour, cream-style corn, eggs, sour cream and cheese (if desired) in a large bowl, stirring with a wooden spoon or rubber spatula until combined. Pour batter into the preheated cast iron skillet. Place skillet in the oven and bake until golden brown, approximately 30 minutes. If making individual size cornbreads in smaller pans, they will require a shorter cooking time.