Southern Cornbread Stuffing
By
Paula Deen
JUMP TO RECIPE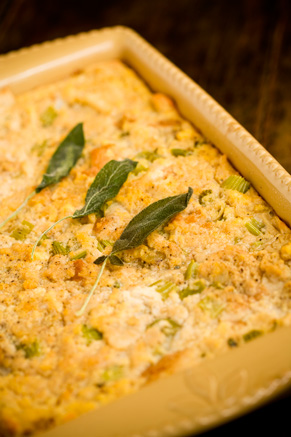 Difficulty: Medium
Prep time: 10 minutes
Cook time: 10 minutes
Servings: 10
Ingredients
7 slices oven-dried white bread
1 sleeve saltine crackers
8 tablespoons butter
2 cups chopped celery
1 large chopped onion
7 cups chicken stock
1 teaspoon salt
to taste freshly ground black pepper
1 teaspoon optional sage
1 tablespoon optional poultry seasoning
7 beaten, 2 for cornbread 5 for dressing eggs
1 cup self rising cornmeal
1/2 cup self rising flour
3/4 cup buttermilk
2 tablespoons vegetable oil
Directions
Preheat oven to 350 °F.
In a large bowl, combine crumbled cornbread (recipe follows), dried white bread slices and crackers; set aside.
Melt the butter in a large skillet over medium heat. Add the celery and onion and cook until transparent, approximately 5 to 10 minutes. Pour the vegetable mixture over cornbread mixture. Add the stock, mix well, taste, and add salt, pepper to taste, sage and poultry seasoning. Add 5 beaten eggs and mix well. Pour mixture into a greased pan and bake until dressing is cooked through, about 45 to 60 minutes.
Cornbread:
Preheat oven to 350 °F.
Combine cornmeal, flour, buttermilk, 2 eggs and oil and mix well. Pour batter into a greased shallow baking dish. Bake for approximately 20 to 25 minutes. Remove from oven and let cool.