Smoked Mini Meatloaves
By
Jamie Deen
JUMP TO RECIPE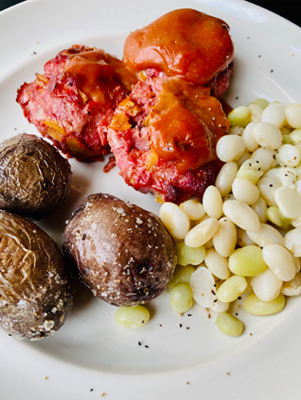 Difficulty: Easy
Prep time: 10 minutes
Cook time: 45 minutes
Servings: 4-6
Ingredients
Mini Meatloaf
2 pounds ground beef (90% lean, 10% fat)
1/4 cup chopped red bell pepper, yellow bell pepper, and sweet onion(equal parts of each)
1 teaspoon salt
12-15 dashes ground black pepper, to taste
1 egg
1 tablespoon green olives, chopped
1 tablespoon kalamata olives, chopped
2 tablespoons sun-dried tomatoes, soaked in warm water until soft, then chopped
crumbled feta cheese, to taste
Sauce
1/4 cup ketchup
2 tablespoons yellow mustard
1 teaspoon brown sugar
Directions
Mini Meatloaf
Preheat your LifeSmart pellet grill to 275˚F and grease a muffin tin with 12 slots.
Mix the peppers and onions into ground beef. Then, add the salt, pepper, and egg, making sure to combine well.
Put just under 1/4 pound into, as-is, into 9 of the muffin tins. For the remaining three, put olives, sun-dried tomatoes, and feta cheese in the center, forming the ball around them.
Put the meat loaves in the muffin tin on the grill and let them cook for about 45-60 minutes, until they're cooked through. Meanwhile, make the sauce.
Sauce
Mix together ketchup, mustard, and brown sugar. Put the sauce on the meat loaves for last 10 minutes.