Creamed Field Peas
By
Paula Deen
JUMP TO RECIPE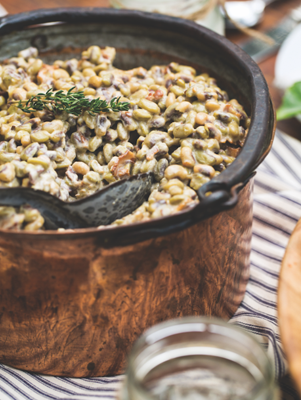 Featured in:
At the Southern Table
Get your copy of At the Southern Table with Paula Deen here.
Difficulty: Easy
Prep time: 15 minutes
Cook time: 50 minutes
Servings: 8
Ingredients
6 cups fresh field peas
12 slices smoked bacon , chopped
2 medium onions , chopped
3 cups heavy whipping cream
2 teaspoons kosher salt
1/4 teaspoon ground black pepper
Directions
In a large saucepan, bring peas and water to cover to a boil over high heat. Reduce heat, and simmer until peas are tender, 20 to 30 minutes. Drain.
In same saucepan, cook bacon and onion over medium heat, stirring occasionally, until bacon is crisp and onion is translucent. Stir in cream, and cook until reduced by half.
Stir in peas, salt, and pepper; cook, stirring frequently, until peas are well coated and mixture is thick, about 10 minutes.