Southern Fried Pork Chops Recipe
By
Paula Deen
JUMP TO RECIPE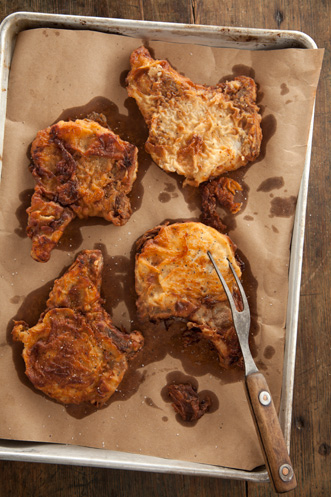 Your taste buds will thank you after trying this easy-to-make southern fried pork chops recipe. Season the bone-in pork chops, coat in buttermilk and dredge in
Show more
Difficulty: Easy
Prep time: 10 minutes
Cook time: 10 minutes
Servings: 10
Ingredients
4 cups vegetable oil
8 (8 oz) about 1-inch thick bone-in pork chops
1 1/4 teaspoons salt
1 1/4 teaspoons freshly ground black pepper
3 teaspoons garlic powder
1 pinch cayenne pepper
1 pinch celery seeds
2/3 cup buttermilk
1 1/3 cups all purpose flour
Directions
Heat oil in a deep skillet to 350 °F.
Arrange the pork chops in a large shallow dish. Season each pork chop, on both sides, with salt, black pepper, garlic powder, cayenne pepper and celery seeds. Pour the buttermilk over the chops and turn to coat.
Place flour into a large shallow dish. Dip each pork chop into the flour mixture and coat well, shaking off the excess.
Using tongs, gently lower the chops into the deep skillet in batches if necessary. Fry for 8 to 10 minutes or until golden brown, turning once. Transfer chops to a paper towel-lined pate to drain. Serve hot.