Scrumptious Carob Bake
By
Paula Deen
JUMP TO RECIPE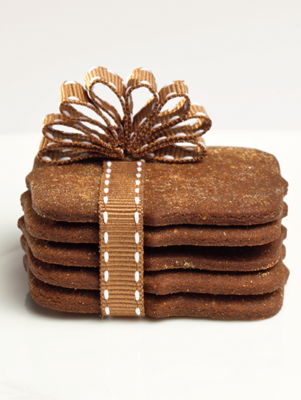 Featured in:
Paula Deen's Recipes for Homestyle Dog Treats
Difficulty: Easy
Prep time: 140 minutes
Cook time: 60 minutes
Servings: 1 to 2 dozen
Ingredients
4 cups white rice flour
1 cup whole wheat flour
1/8 cup peanut oil
1/8 cup safflower oil butter
1 tablespoon brown sugar
4 ounces carob chips, melted
1 cup water
1/4 cup molasses
1/2 cup powdered milk
Directions
Reheat the oven to 300ºF.
In a large bowl, mix all dry ingredients together. Add remaining ingredients and mix until blended. The dough will be stiff. Place in the refrigerator and allow to chill. Chill dough to 2 hours.
Roll dough on a greased cookie sheet to a 1/2-inch thickness and cut into shapes. Place the cookies 1/2-inch apart on cookie sheet. Bake for 1 hour.