Zesty Caesar Salad
By
Deen Brothers
JUMP TO RECIPE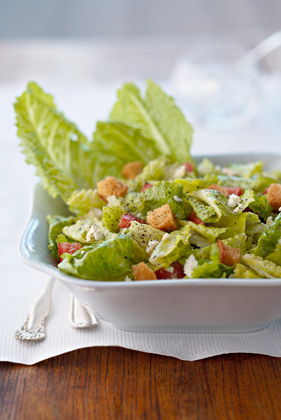 Featured in:
The Deen Bros. Y'all Come Eat
Difficulty: Easy
Prep time: 10 minutes
Cook time: 15 minutes
Servings: 4 to 6
Ingredients
1 ounce Parmesan cheese
2 tablespoons freshly squeezed lemon juice
1 teaspoon Worcestershire sauce
1 clove garlic
1/4 teaspoon bottled hot pepper sauce
1/4 teaspoon salt
Freshly ground black pepper
3 tablespoons extra virgin olive oil
1 ounce day-old country-style bread
1 tablespoon extra virgin olive oil
Salt and freshly ground black pepper
1 head romaine lettuce
1/2 medium tomato
1 ounce feta cheese
Directions
Preheat oven to 350F. For the dressing, place the Parmesan, lemon juice, Worcestershire sauce, garlic, hot sauce, salt, and pepper to taste in a small bowl; whisk until smooth. Slowly add the oil, whisking constantly until combined. Taste and adjust the seasoning if desired.
For the croutons, toss the bread cubes with the oil and season with salt and pepper to taste. Spread cubes in a single layer on a baking sheet. Bake for 12 to 15 minutes or until croutons are crisp and golden.
For the salad, in a large bowl, toss the lettuce, croutons, and tomato. Add just enough dressing to coat the lettuce (save remaining dressing for another use) and toss again. Sprinkle with the feta.