Jerk Chicken
By
Paula Deen
JUMP TO RECIPE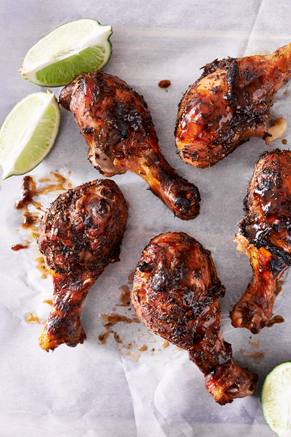 Difficulty: Easy
Prep time: 250 minutes
Cook time: 55 minutes
Servings: 5
Ingredients
2 teaspoons ground allspice
1/2 teaspoon ground nutmeg
1 teaspoon salt
2 teaspoons dried thyme
1 teaspoon ground ginger
1 tablespoon brown sugar
1 1/2 teaspoons black pepper
2 tablespoons vegetable oil
2 cup onions, chopped
5 cloves garlic
2 habanero peppers
1 (5 lb) skin on chicken, cut into 10 pieces
1 cup lime juice
Directions
Combine all ingredients except the chicken and lime juice in a food processor and puree until pretty smooth. Place the chicken and lime juice in a mixing bowl and pour about half of the jerk sauce over it, tossing the chicken around to coat it well. Place in a container and pour the remaining sauce on top of chicken. Cover and refrigerate for at least 4 hours or overnight.
Preheat oven to 350 °F.
Remove the chicken pieces from the jerk marinade and place them, skin side up, on a rimmed baking sheet or dish. Bake in the oven for 45 to 55 minutes until cooked through and the juices run clear when pierced with a fork.