Jerk Wontons With Caribbean Salsa
By
Paula Deen
JUMP TO RECIPE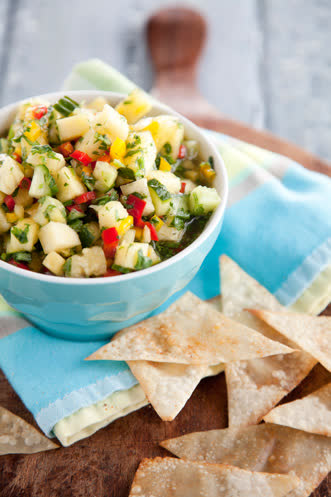 Difficulty: Easy
Prep time: 260 minutes
Cook time: 6 minutes
Servings: 12
Ingredients
3 cups fresh pineapple, diced
2 jalapeños, seeded and minced
1 seedless cucumber, diced
1 red bell pepper, diced
1 yellow bell pepper, diced
1 bunch fresh cilantro (about 1/2 cup), chopped
3 tablespoons frozen apple juice concentrate, thawed
1 tablespoon extra virgin olive oil
3/4 teaspoon salt
3/4 teaspoon ground black pepper
25 wonton wrappers, cut in half diagonally
1/3 cup butter, melted
1 tablespoon caribbean jerk seasoning (recipe follows)
1 tablespoon kosher salt
1 teaspoon ground allspice
1 teaspoon brown sugar
1 teaspoon garlic powder
1 teaspoon onion powder
1/2 teaspoon Scotch bonnet pepper, dried, crushed
1/2 teaspoon paprika
1/2 teaspoon dried chives
1/2 teaspoon ground nutmeg
1/2 teaspoon freshly ground black pepper
1/2 teaspoon ground ginger
1/4 teaspoon ground cinnamon
1/4 teaspoon ground cloves
1/4 teaspoon dried thyme
Directions
Caribbean Salsa
In a large bowl, combine the pineapple, jalapeños, cucumber, bell peppers, and cilantro. In another bowl, combine the apple juice concentrate, oil, salt, and pepper. Add to the pineapple mixture, tossing gently to coat. Cover and chill for 4 hours. Serve with Jerk-Seasoned Wonton Chips.
Jerk-Seasoned Wonton Chips
Preheat the oven to 350 degrees F.
Place the wonton wrappers in a single layer on parchment-lined baking sheets. Brush with melted butter; sprinkle each evenly with jerk seasoning. Bake until lightly browned and crisp, 4 to 6 minutes. Cool completely on parchment paper. Serve immediately, or store chips in an airtight container up to 1 week.
Caribbean Jerk Seasoning
Combine all ingredients in a bowl until well-mixed. Store in an airtight container.