Jerk Shrimp Kebabs
By
Paula Deen
JUMP TO RECIPE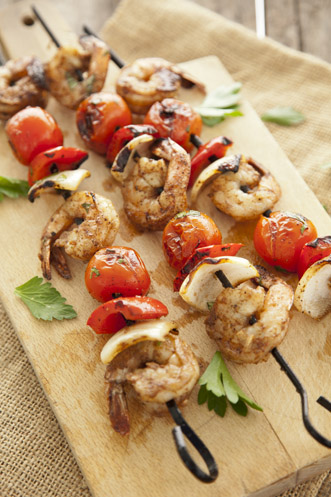 Difficulty: Easy
Prep time: 12 minutes
Cook time: 35 minutes
Servings: 6
Ingredients
1/2 cup bottled jerk sauce or caribbean jerk seasoning, recipe follows
1/2 cup olive oil, plus 2 tablespoons
1 1/2 teaspoons fresh ginger, peeled and finely chopped
1 lb large shrimp, peeled and deveined
1 cup cherry tomatoes
1 large onion, cut into chunks
1 red bell pepper, seeded and cut into 1/4-inch square chunks
salt
freshly ground black pepper
1 tablespoon chopped fresh parsley, plus more for garnish
1 tablespoon kosher salt
1 teaspoon ground allspice
1 teaspoon brown sugar
1 teaspoon garlic powder
1 teaspoon onion powder
1/2 teaspoon Scotch bonnet pepper, dried, crushed
1/2 teaspoon paprika
1/2 teaspoon dried chives
1/2 teaspoon ground nutmeg
1/2 teaspoon freshly ground black pepper
1/2 teaspoon ground ginger
1/4 teaspoon ground cinnamon
1/4 teaspoon ground cloves
1/4 teaspoon dried thyme
vegetable oil
Directions
If using bamboo skewers, soak them in water for at least 20 minutes. Preheat the broiler or prepare the grill.
In a large bowl, whisk together the jerk sauce, (or jerk seasoning, if using) 1/2 cup olive oil, and ginger. Add the shrimp and toss to coat. Cover and marinate for 15 minutes.
In a separate bowl, toss the tomatoes, onions, peppers, and parsley with the remaining 2 tablespoons olive oil. Season with salt and pepper. Skewer the vegetables and shrimp.
Place the skewers on a rimmed baking sheet lined with aluminum foil, or, if grilling, place on the grill. Cook, turning once, until the vegetables are tender and the shrimp are opaque, 5 to 6 minutes more. Garnish with parsley before serving.
Caribbean Jerk Seasoning
Combine all ingredients but vegetable oil in a bowl until well-mixed. Add oil to create a marinade to your desired consistency. Store in an airtight container.