Rockin' Roast Pork Shoulder with Spanish Rice
By
Paula Deen
JUMP TO RECIPE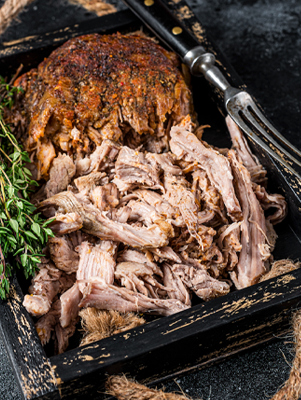 Difficulty: Medium
Prep time: 35 minutes
Cook time: 15 minutes
Servings: 200
Ingredients
Rockin' Roast Pork Shoulder
1 (5-lb) pork shoulder
12 whole cloves garlic, slightly smashed
3 envelopes (1 1/2 tablespoons) sazon seasoning
1 tablespoon adobo seasoning
Sofrito
1 green pepper, minced
1 onion, minced
1/2 bunch cilantro, chopped
1/4 cup olive oil
Spanish Rice
2 tablespoons sofrito
1/4 cup diced pork
1/4 cup onions, diced
2 tablespoons butter
2 cups long grain rice
4 cups water
1 (16 oz) can pigeon peas
2 tablespoons fresh cilantro, chopped to garnish
Directions
Sofrito
In a food processor add green pepper, onion and cilantro. Pour in oil and mix well. Set aside 2 tablespoons for Spanish rice.
Cook's Note: Can keep in the refrigerator for up to 10 days.
Preheat oven to 300 °F.
Rockin' Roast Pork Shoulder
Cut off 2-slices (about 1/4-cup) of pork and set aside for Spanish rice.
Make at least 12-slits in pork with the tip of a very sharp knife. Put 1 clove of garlic in each slit. In a small bowl, mix together the sazon and adobo seasonings. Add 1/4-cup sofrito and stir together. Rub over entire pork shoulder.
Place pork in large roasting pan, wrap with foil and cook for 3 hours. Remove the foil and crank oven up to 400 °F and let cook additional 20 minutes until desired crispness.
Spanish Rice
In large saucepan on high heat, saute onions and reserved pork in the butter until lightly browned. Add sazon, adobo, rice, water and reserved sofrito. * Cook's Note: Do not stir at any point.
Cook about 10 minutes on high or until the water begins to evaporate to almost the level of the rice. Add pigeon peas and cilantro. Cover with lid, reduce heat to low and let cook until water is totally evaporated and rice is tender. Remove from heat.