Spanish Chicken and Chorizo Paella
By
Paula Deen
JUMP TO RECIPE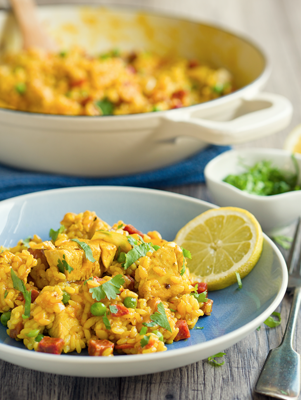 Difficulty: Medium
Prep time: 10 minutes
Cook time: 10 minutes
Servings: 10
Ingredients
2 cups short-grain rice
1 lb Spanish style links, cut into slices on the bias chorizo sausage
4 1/2 cups chicken broth
1 (14.5 oz) can diced tomatoes
1 large diced green bell pepper
1 large diced onion
2 teaspoons paprika
1 cut legs, drumsticks and thighs chicken
1/4 cup olive oil
pinch saffron threads
1 cup fresh or frozen green peas
for service lemon wedges
Directions
Heat a paella pan or very large, shallow skillet or pot, preferably with 2 handles over high heat.
Cook's note: A large cast iron skillet would work here.
Pour in the olive oil and let it heat up. Season the chicken all over with salt, pepper and paprika. Sear in the olive oil until browned all over. Transfer to a plate with tongs.
Lower the heat to medium and sauté the onions and bell pepper until softened. Stir in the diced tomatoes, chicken broth and chorizo. Bring the liquid to a boil and then stir in the rice and saffron. Add the browned chicken pieces. The rice should be completely covered with liquid. Cook the paella without stirring for 20 minutes. When the liquid has all been absorbed, pour the peas over the top of the pot, turn off the heat and cover the pot with a kitchen towel. Let stand 5 minutes and then serve with lemon wedges.