Fuentes Family Lasagna
By
Paula Deen
JUMP TO RECIPE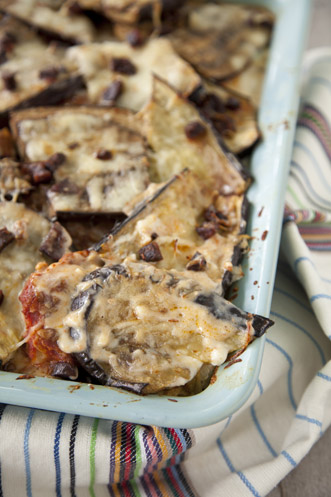 Difficulty: Hard
Prep time: 15 minutes
Cook time: 15 minutes
Servings: 15
Ingredients
tomato sauce
1/4 cup plus 3 tablespoons olive oil
3 large cut lengthwise, ends off, 1/2 inch thick eggplants
1 cup diced and fried cured spanish chorizo
1/2 cup pine nuts
2 cups grated manchego cheese
4 slices cubed and crusts removed white sandwich bread
1/2 cup milk
1 1/2 lbs extra-lean ground beef
3 remove casing Spanish chorizo sausages
4 large beaten eggs
1/4 cup plain dry breadcrumbs
1/4 cup freshly grated Parmigiano-Reggiano cheese
1/4 cup chopped fresh parsley
1 teaspoon minced fresh marjoram
3 cloves minced garlic
1 stick butter
1/2 cup plus 2 tablespoons all purpose flour
3 cups room temperature whole milk
1/4 teaspoon ground nutmeg
Directions
Preheat broiler.
Prepare beef patties and simmer in tomato sauce for about 10 minutes, set aside.
Spray cookie sheet with olive oil. Salt and pepper unpeeled eggplant slices on both sides. Drizzle with 3 tablespoons olive oil. Layer them on cookie sheet and broil for 10 to 15 minutes on each side, and set aside.
Drain the fried chorizo and set aside. Toast pine nuts in broiler for about 10 minutes.
Cover bottom of baking dish with about 1 1/2 cups of Bechamel sauce. Add 1 layer of eggplant then top with beef patties and sauce. Sprinkle with grated Manchego cheese and toasted pine nuts. Repeat steps and finish with a layer of eggplant. Pour remaining Bechamel sauce on top and sprinkle with fried chorizo, remaining pine nuts and rest of Manchego cheese. Broil in middle of the oven for about 15 to 20 minutes or until golden brown.
Beef Chorizo Patties:
In a bowl, soak the bread in milk until saturated. Squeeze out the milk and place into a separate bowl along with ground beef, chorizo, eggs, breadcrumbs, Parmigiano cheese, parsley, marjoram and garlic. Mix until combined. Knead until the mixture is firm enough to roll. Roll into small round patties, not too thick.
In a large, nonstick skillet, heat the 1/4 cup olive oil on high heat and add the patties. Fry about 2 minutes on each side. Transfer meat patties to a plate. Add patties to the tomato sauce and simmer for about 10 minutes.
Bechamel Sauce:
Melt the butter in a saucepan over medium heat. Add the flour and cook until smooth; stirring continuously, about 2 minutes. Slowly add the milk and whisk constantly. Once smooth, simmer until thickened, about 10 minutes. Add the nutmeg.