Roasted Pumpkin Spears with Parmesan
By
Paula Deen
JUMP TO RECIPE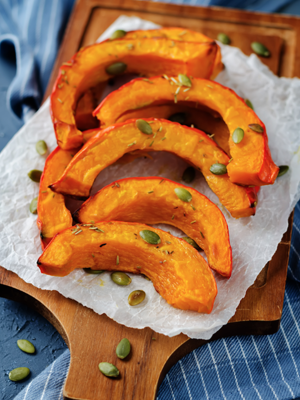 Difficulty: Easy
Prep time: 30 minutes
Cook time: 35 minutes
Servings: 8
Ingredients
1 2.5-3 lb pumpkin, such as Baby Pam or Sugar Baby variety
1/4 cup extra virgin olive oil, plus more for drizzling
1 teaspoon kosher salt, plus more to taste
1/2 teaspoon freshly ground black pepper, plus more to taste
1/4 cup Parmesan cheese, shredded
8 fresh sage leaves, finely chopped for garnish
Directions
Preheat oven to 425 °F. Line a baking sheet with parchment paper or non-stick aluminum foil.
Wash and dry the outside of the pumpkin. Cut out the stem and cut the pumpkin in half lengthwise, stem to end, exposing the inside cavity. Using a large, metal kitchen spoon, scrape out the seeds and the stringy pulp, reserving the seeds roasting later. Discard the stringy pulp.
Take one pumpkin half and cut it, lengthwise again, into 4 spears. Halve each of those spears lengthwise, creating 8 spears. Repeat with the other half, creating 16 spears total.
In a large bowl, add the pumpkin spears, olive oil, salt and pepper. Using your hands, combine until the spears are well coated. Place each spear, cut side down, onto the lined baking sheet and roast in the oven for 15 to 20 minutes until the "down" side is nicely browned.
Using tongs, gently turn the spears over and allow the other side to roast another 5 to 7 minutes until lightly brown. Using the tongs again, turn the spears so the skin-side is now down and sprinkle the shredded cheese over the top of each spear. Return to the oven and roast another 5 to 7 minutes until the cheese has melted and started to brown.
Remove from oven. Arrange on a platter, garnish with chopped fresh sage, a drizzle of extra virgin olive oil and a sprinkle of salt and pepper. May be served warm or at room temperature.
*Note: Once roasted, the pumpkin skin may be eaten and adds a hint of sweetness to this savory recipe.