Honey Game Hens
By
Paula Deen
JUMP TO RECIPE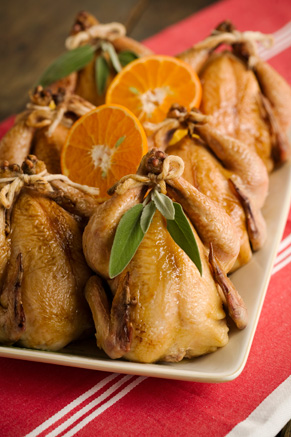 Difficulty: Medium
Prep time: 15 minutes
Cook time: 15 minutes
Servings: 15
Ingredients
1/2 cup honey
1/2 cup soy sauce
1 (1 inch) piece peeled and chopped ginger
4 cloves chopped garlic
6 about 3/4 to 1 lb each Cornish game hens
2 tablespoons peanut oil
2 tablespoons orange juice
1 tablespoon minced orange zest
Directions
Rinse hens, trim off excess fat, and pat dry; place in bowl. Put garlic and ginger in food processor and process until nearly smooth. In another bowl, combine soy sauce, honey, oil, orange juice, and zest. Add the garlic and ginger. Pour mixture over game hens, coating well. Allow meat to marinate in the refrigerator for one hour.
Preheat oven to 350 °F.
Place game hens in shallow roasting pan; pour marinade on top. Allow refrigerated game hens to reach room temperature before placing in oven. Bake for 1 hour, basting every 15 minutes. Remove hens to serving platter. Pour cooking juices into small, heavy saucepan and boil for 4 minutes, or until sauce thickens. Pour over hens just before serving. Serve with sesame noodles or rice pilaf. These hens can also be grilled–just remember to baste often.