Roasted Potato Salad with Blue Cheese Dressing
By
Paula Deen
JUMP TO RECIPE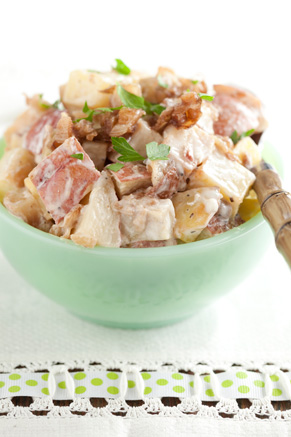 Difficulty: Easy
Prep time: 15 minutes
Cook time: 30 minutes
Servings: 20
Ingredients
Roasted Potato Salad
5 lbs red potatoes (or white), cut into 1-inch pieces
3 tablespoons olive oil
2 teaspoons garlic, minced
1 teaspoon salt
1/2 teaspoon black pepper
1/4 cup butter
1 large onion, chopped
1 tablespoon balsamic vinegar
Blue Cheese Dressing
3/4 cup mayonnaise
1 (5-oz) container blue cheese, crumbled
2 tablespoons sour cream
1 1/2 teaspoons prepared horseradish
1/2 teaspoon black pepper
Directions
Roasted Potato Salad
Preheat oven to 450 °F. Line a large shallow roasting pan with non-stick aluminum foil.
In a large bowl, combine potatoes, olive oil, garlic, 1 teaspoon salt and 1/2 teaspoon pepper, tossing gently to coat. Arrange potatoes in a single layer on prepared pan. Bake for 35 minutes, until potatoes are tender and lightly browned, stirring occasionally. Remove from oven and cool.
In a large skillet, melt butter over medium-low heat. Add onions; cover and cook for 30 minutes, stirring occasionally. Uncover and add vinegar. Stir until vinegar evaporates, about 1 to 2 minutes.
In a large bowl, combine potatoes, onions, and Blue Cheese Dressing. Serve immediately, or cover and refrigerate. Bring to room temperature before serving.
Blue Cheese Dressing
In a small bowl, combine mayonnaise, blue cheese, sour cream, horseradish and 1/2 teaspoon pepper. Cover, and refrigerate.
Yield: about 1 cup