Roasted Potato and Fennel Salad
By
Paula Deen
JUMP TO RECIPE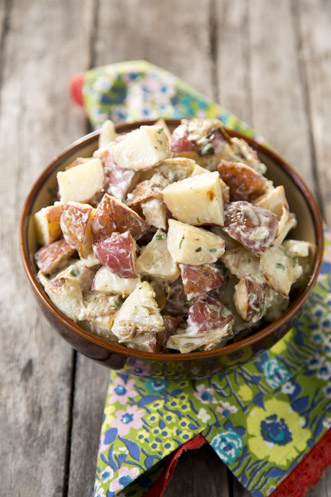 Difficulty: Easy
Prep time: 20 minutes
Cook time: 25 minutes
Servings: 12
Ingredients
2 fennel bulbs, cut into 1-inch chunks
1 (5 lb) bag red potatoes, cut into 1-inch chunks
3 tablespoons olive oil
1 teaspoon salt
1/2 teaspoon ground black pepper
1/2 cup mayonnaise
3 tablespoons fresh chives, minced
1 tablespoon fresh parsley, minced
Directions
Preheat the oven to 425 °F. Line a rimmed baking sheet with aluminum foil.
Combine the potatoes, fennel, olive oil, salt and pepper in a large bowl. Spread the mixture in a single layer on the prepared baking sheet. Bake until the potatoes are tender and lightly browned, about 25 minutes. Cool, about 30 minutes.
Combine the mayonnaise, chives and parsley in a large bowl. Add the cooled potato mixture, tossing gently to combine. Serve immediately, or cover and chill up to 3 days.