Roasted Garlic Focaccia
By
Paula Deen
JUMP TO RECIPE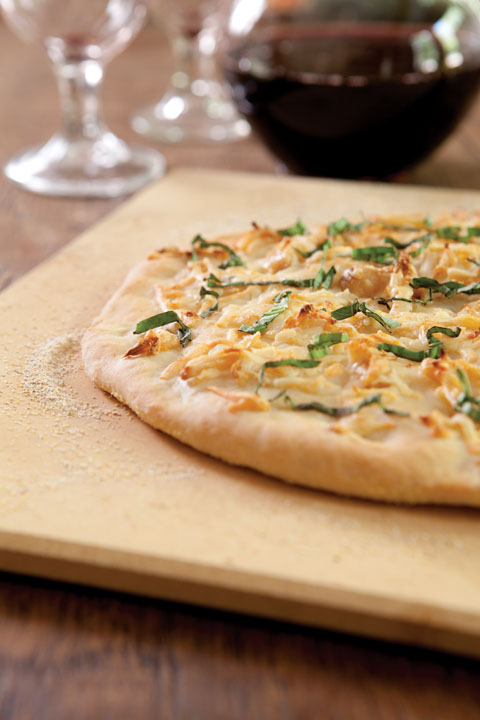 Difficulty: Medium
Prep time: 95 minutes
Cook time: 60 minutes
Servings: 6
Ingredients
1 1/4 cups warm water (105 °F to 115 °F)
1 (1/4 oz) package active dry yeast
2 teaspoons sugar
3 1/2 cups all purpose flour
1 1/2 teaspoons salt
3 tablespoons olive oil
2 heads garlic
cornmeal
2 cups asiago cheese, grated
fresh basil, thinly sliced for garnish
Directions
In a small bowl, combine 1 1/4 cups warm water, yeast, and sugar; let stand for 5 minutes.
In the work bowl of a food processor, combine flour and salt. Pulse several times to combine. With processor running, slowly add yeast mixture and oil; process until dough forms a ball.
Turn dough out onto a lightly floured surface. Knead dough until smooth and elastic (about 5 minutes). Place dough in a lightly greased bowl, turning to grease top. Loosely cover, and let rise in a warm place (85 °Fš), free from drafts, for 1 hour or until doubled in bulk.
Preheat oven to 400 °F. Cut 1/2 inch off pointed ends of garlic, keeping cloves intact. Place garlic, cut ends up, on aluminum foil. Wrap garlic in foil, and bake 40 to 45 minutes or until softened. When cool enough to handle, squeeze garlic pulp into a small bowl. Mash garlic with a fork. Set aside.
Punch dough down, and let rest for 10 minutes. Increase oven temperature to 450 °Fš. Lightly spray 2 (15-inch) pizza stones or baking sheets with cooking spray; sprinkle lightly with cornmeal.
On a lightly floured surface, roll dough into 2 (12-inch) circles. Place dough rounds on pizza stones. Using the handle of a wooden spoon, make indentations at 1-inch intervals in top of dough. Spread roasted garlic evenly over dough. Sprinkle with cheese. Bake for 12 to 15 minutes or until lightly browned. Cool completely on wire racks.
Garnish with basil, if desired.