Roasted Garlic Bread
By
Deen Brothers
JUMP TO RECIPE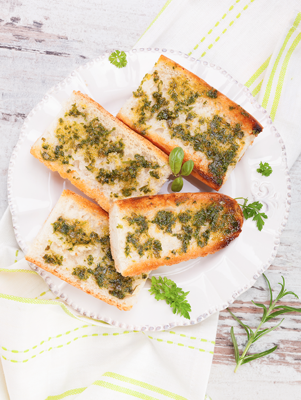 Difficulty: Easy
Prep time: 45 min
Cook time: 35 min
Servings: 8 servings
Ingredients
1 head garlic
Olive oil
Kosher salt
freshly ground black pepper
1 stick butter
1 teaspoon lemon zest
1 tablespoon fresh basil rough chopped
1 tablespoon fresh parsley rough chopped
1 16-inch loaf Italian bread
Directions
Preheat the oven to 350 degrees F.
Place the garlic in a square of tin foil and drizzle with olive oil, salt and pepper. Wrap up the garlic and place in the oven. Roast for 20 minutes. Let cool.
Add the softened butter to a bowl and mix together with the roasted garlic cloves, lemon zest and herbs. Season with salt and pepper and mix again to combine.
Brush the butter mixture over both sides of the bread. Wrap in foil and bake until crisp and butter is nice and melted, about 15 minutes.