Caesar Salad with Parmesan Crisps
By
Paula Deen
JUMP TO RECIPE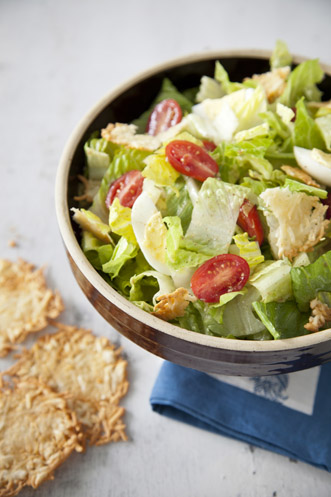 Difficulty: Easy
Prep time: 15 minutes
Cook time: 3 minutes
Servings: 4 to 6 servings
Ingredients
3/4 cup (3 oz) Parmesan cheese
1/2 cup extra virgin olive oil
4 rinsed and patted dry, (optional) anchovy fillets
2 tablespoons fresh lemon juice
2 cloves garlic
3 dashes hot sauce
1 teaspoon dijon mustard
3/4 teaspoon salt
1/2 teaspoon Worcestershire sauce
2 hearts chopped romaine lettuce
3 hard-boiled peeled and quartered eggs
1 cup halved cherry tomatoes
freshly ground black pepper
Directions
Parmesan Crisps:
Heat a nonstick skillet over medium-high heat and sprinkle the cheese, by the tablespoon, into the skillet. Cook until lacy and slightly set; about 1 minute. Flip and cook until crisp, about 2 minutes more. Transfer to a wire rack to cool.
Dressing:
Combine the olive oil, anchovies, lemon juice, garlic, hot sauce, mustard, salt, Worcestershire sauce and pepper, to taste, in blender or food processor. Blend until smooth.
Salad:
Put the lettuce, eggs and tomatoes into a large serving bowl and crumble in the Parmesan crisps. Pour enough dressing on the salad to coat well, toss, and serve.