Homestyle Family Pizza
By
Paula Deen
JUMP TO RECIPE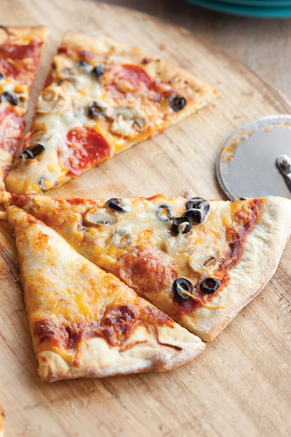 Difficulty: Easy
Prep time: 5 minutes
Cook time: 5 minutes
Servings: 5
Ingredients
1 lb package purchased fresh pizza dough
1/4 cup yellow cornmeal
1 1/2 cups pizza sauce
2 cups shredded Italian 6-cheese blend
2 cups shredded whole-milk mozzarella cheese
1 cup shredded sharp cheddar cheese
1/4 cup pepperoni slices
1/4 cup sliced black olives
1/4 cup canned, drained sliced mushrooms
Directions
1. Let pizza dough rise, covered, at room temperature for 30 minutes.
2. Preheat oven to 425 °F. Punch dough down. Sprinkle cornmeal on a clean flat surface. Place dough on cornmeal, and roll out into a 15-inch circle. Pierce dough 7 or 8 times with a fork. Place on a large baking sheet. Bake for 6 minutes. Remove from oven.
3. Spread pizza sauce over prepared crust, and sprinkle evenly with 6-cheese blend, mozzarella cheese, and cheddar cheese. Top half of pizza with pepperoni, olives and mushrooms, leaving remaining half cheese only.
4. Bake for 10 to 12 minutes or until cheese has melted and crust is done. Let stand for 2 to 3 minutes before slicing.