Homestyle Chicken Pot Pie
By
Paula Deen
JUMP TO RECIPE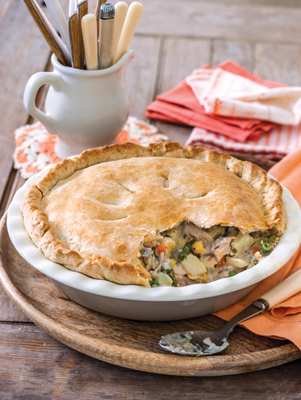 Featured in:
At the Southern Table
Paula's classic Southern Homestyle Chicken Pot Pie Recipe is the ultimate comfort food and is budget-friendly, perfect for leftover chicken. Make the crust and then the filling using cooked chicken, green beans, corn kernels, carrots, onion and celery. Pairs perfectly with a salad.
This delicious recipe and 149 others can be found in Paula's book, At the Southern Table with Paula Deen. Get your copy here.
Difficulty: Medium
Prep time: 45 minutes
Cook time: 55 minutes
Servings: 6 to 8
Ingredients
Crust
1 1/3 cups all-purpose flour
1/2 teaspoon salt
1/4 teaspoon baking powder
1/4 cup all-vegetable shortening
3 to 4 tablespoons ice water
Filling
2 tablespoons butter
1 cup diced, peeled baking potatoes
1 cup (1-inch pieces) fresh green beans
1/4 cup fresh or thawed frozen corn kernels
1/2 cup chopped carrot
1/2 cup chopped onion
1/2 cup chopped celery
1 1/4 cups chicken broth
1 cup half-and-half
1/2 cup all-purpose flour
1 tablespoon chopped fresh parsley
1 1/2 teaspoons, divided, salt
1/2 teaspoon ground black pepper
1/2 teaspoon dried thyme
3 cups chopped cooked chicken
1 egg beaten
Directions
Crust
1. In a large bowl, whisk together flour, salt, and baking powder. Cube shortening. Using a pastry blender, cut in butter and shortening until mixture is crumbly. Stir in ice water 1 tablespoon at a time with a fork just until dry ingredients are moistened.
2. Turn out dough onto a lightly floured surface, and shape into a disk. Wrap in plastic wrap, and refrigerate for 30 minutes.
3. Preheat oven to 375°. Spray a 10-inch deep-dish pie plate with cooking spray.
Filling
1. In a large skillet, melt butter over medium heat. Add potatoes, beans, corn, carrot, onion, and celery; cook, stirring occasionally, until vegetables begin to soften, about 7 minutes.
2. In a small bowl, stir together broth and half-and-half; whisk in flour until mixture is smooth. Stir half-and-half mixture, parsley, 1¼ teaspoons salt, pepper, and thyme into vegetables, and bring to a boil over medium-high heat. Cook, stirring frequently, until sauce is thickened, 3 to 5 minutes. Remove from heat, and stir in chicken. Pour mixture into prepared pan.
3. On a lightly floured surface, roll dough to a 12-inch circle; place on top of chicken mixture. Fold edges of dough under, and crimp as desired. Cut 6 slits in top of dough to release steam. Brush beaten egg onto dough, and sprinkle with remaining ¼ teaspoon salt. Place pot pie on a rimmed baking sheet.
4. Bake until crust is golden brown and filling is hot and bubbly, about 40 minutes. Let stand for 10 minutes before serving.