Classic Canine Cookies
By
Paula Deen
JUMP TO RECIPE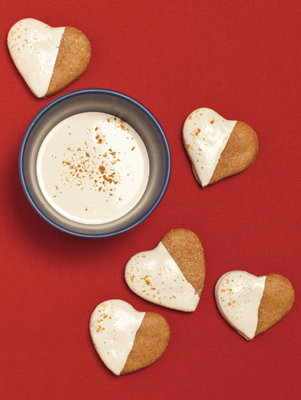 Featured in:
Paula Deen's Recipes for Homestyle Dog Treats
Difficulty: Easy
Prep time: 20 minutes
Cook time: 40 minutes
Servings: 3 dozen
Ingredients
Cookies
2 1/4 cups whole wheat flour
1 egg
1/4 cup applesauce
1/4 cup vegetable oil
1 beef or chicken bouillon cube
1/2 cup hot water
1 tablespoon honey
1 tablespoon molasses
Icing
3 cups vanilla chips
1 tablespoon spinach powder or 1 teaspoon turmeric powder or 1 teaspoon cinnamon
1 teaspoon vegetable oil
Directions
Cookies
Mix all cookie ingredients together until well-blended. Knead dough for two minutes on a lightly-floured surface. Roll to a 1/4-inch thickness. Bake on an un-greased cookie sheet for 30 minutes in a 300ºF oven. Let cool.
Dip the tips of the cooled cookies into the icing and place on a pan lined with wax paper until set.
Icing
Melt chips in a double boiler or microwave. Add oils and seasonings.