Classic Holiday Baked Ham
By
Deen Brothers
JUMP TO RECIPE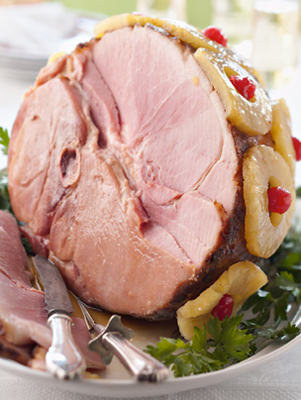 Featured in:
The Deen Bros. Y'all Come Eat
Difficulty: Easy
Servings: 20 to 30
Ingredients
1 10- to 14-pound bone-in ham
1/2 cup packed light brown sugar
2 tablespoons bourbon
1 20-ounce can sliced pineapple
Maraschino cherries about 10 for garnish
Directions
Preheat oven to 325°F. Place the ham in a roasting pan and bake for 3 to 4 hours or until an instant-read thermometer inserted into the thickest part of the ham registers 150°F (about 18 minutes per pound).
Remove the ham from the oven and, using a sharp knife, make a crosshatch pattern, no more than 1/4 inch deep, in the surface of the ham.
In a small bowl, stir together the sugar and bourbon until smooth; spread the mixture all over the ham. Decorate ham with pineapple rings and cherries, securing with toothpicks as necessary. Return the ham to the oven and bake for 30 to 45 minutes more or until the internal temperature registers 160°F.