Blue Potatoes au Gratin
By
Paula Deen
JUMP TO RECIPE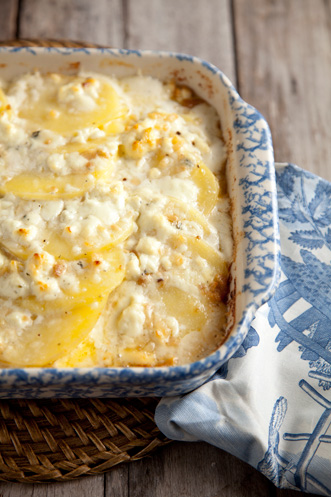 Difficulty: Easy
Prep time: 10 minutes
Cook time: 1 hour 5 minutes
Servings: 6-8
Ingredients
2 1/2 lbs peeled and sliced 1/4-inch thick russet potatoes
2 cloves minced garlic
2 tablespoons butter
2 tablespoons all purpose flour
2 cups heavy cream
1 cup shredded Gruyere cheese
1/2 cup crumbled blue cheese
Directions
Directions
Preheat oven to 375 °F. Butter a 9 by 13-inch baking dish or similar sized casserole dish.
Arrange the sliced potatoes in the prepared dish. In a medium saucepan, saute the minced garlic in butter over medium heat until softened and fragrant. Stir in flour and cook for 3 minutes. Gradually whisk in the cream until smooth and thick. Remove from the heat and stir in the cheeses. Season with salt and pepper.
Pour cheese sauce over the potatoes in the dish. Cover with foil and bake for 45 minutes. Remove foil and bake another 15 minutes until browned.