Dutch Oven Peach Cobbler
By
Paula Deen
JUMP TO RECIPE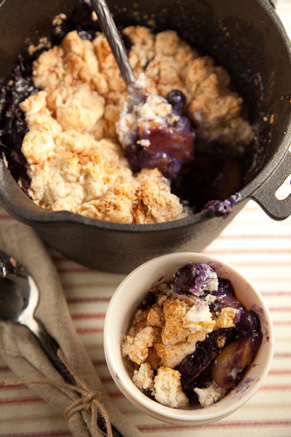 Difficulty: Easy
Prep time: 20 minutes
Cook time: 45 minutes
Servings: 6 to 8
Ingredients
Cobbler
ground cinnamon
1/3 cup sugar
2 3/4 cups baking mix, divided
2 (16-oz) cans sliced peaches in heavy or light syrup or in fruit juice
1 pint fresh blueberries
Topping
2 1/4 cups baking mix
1/4 cup sugar
1/4 cup (1/2 stick) butter, melted
1/2 cup milk
cinnamon sugar (1/4 cup sugar combined with 2 teaspoons ground cinnamon; store in an empty spice shaker jar; shake well before each use)
Directions
Cobbler
Spray a Dutch oven with vegetable oil cooking spray. Preheat oven to 350 °F.
Drain 1 can of the peaches. Combine both cans of peaches, including the juice from the undrained can, the blueberries (if using), 1/2 cup baking mix, 1/3 cup sugar and a sprinkling of cinnamon. Place this mixture into the Dutch oven.
Topping
Combine 2 1/4 cups baking mix, 1/4 cup sugar, butter and milk in a resealable plastic bag. Drop bits of dough, using your fingers, on top of the peaches. Sprinkle with cinnamon sugar.
Place the Dutch oven into the preheated oven for 30-45 minutes, or until the top is golden brown and crusty.