Sweet Potato Doughnuts with Maple Icing
By
Paula Deen
JUMP TO RECIPE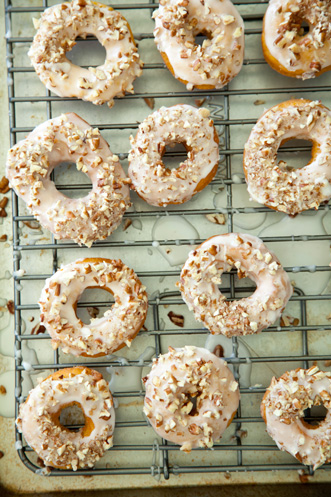 Difficulty: Medium
Prep time: 15 minutes
Cook time: 15 minutes
Servings: 15
Ingredients
for frying vegetable oil
1 cup sour cream
1 cup cooked mashed (about 1 medium potato) sweet potato
2 large lightly beaten eggs
1/2 teaspoon salt
1/2 teaspoon ground cinnamon
1/2 teaspoon baking soda
2 teaspoons baking powder
1 cup sugar
3 1/2 cups all purpose flour
1 cup finely chopped pecans
2 2/3 cups confectioner's sugar
3 to 4 tablespoons milk
1/4 teaspoon maple extract
Directions
In a medium bowl, combine flour, sugar, baking powder, baking soda, cinnamon and salt. In a large bowl, combine eggs, sour cream and sweet potato. Gradually add flour mixture, stirring to combine. Turn dough out onto a heavily floured surface. Knead in flour with hands as needed (dough will be sticky). Roll out dough to 1/2-inch thickness. Cut out dough with a 2 1/4-inch round cutter. Cut out center of doughnuts with a 3/4-inch round cutter. Re-roll dough as needed.
In a Dutch oven, heat vegetable oil over medium heat to 360 °F. Cook doughnuts, in batches, in hot oil, 2 minutes per side, or until lightly browned. Drain on paper towels. Ice top of doughnuts with Maple Icing, and sprinkle with chopped pecans.
Maple Icing:
In a small bowl, combine confectioners' sugar and 3 tablespoons milk; stir well. Add additional milk to reach desired consistency. Stir in maple extract.
Yield: 1 cup icing