Sweet Potato Meringue Pie
By
Deen Brothers
JUMP TO RECIPE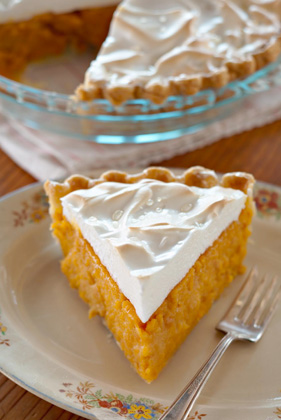 Featured in:
The Deen Bros. Y'all Come Eat
Difficulty: Easy
Servings: 8 to 10
Ingredients
2 large sweet potatoes
1 cup sour cream
1 cup granulated sugar
3 large eggs
2 tablespoons unsalted butter
2 tablespoons bourbon
1 teaspoon vanilla
1/2 teaspoon ground ginger
1/4 teaspoon ground nutmeg
1/4 teaspoon salt
All-purpose flour for dusting
1/2 of a 15-ounce package rolled refrigerated unbaked piecrusts 1 crust
1/4 teaspoon cream of tartar
1/2 cup superfine sugar
Directions
Preheat oven to 350°F. Peel the potatoes and place in a large mixing bowl. Add the sour cream. Beat on medium speed with an electric mixer until smooth. Beat in the granulated sugar, egg yolks, butter, bourbon, vanilla, ginger, nutmeg, and salt.
On a lightly floured surface, roll dough into an 11-inch circle. Line a 9-inch pie plate with the piecrust and crimp the edges decoratively. Pour the sweet potato mixture into the piecrust. Bake for 45 to 55 minutes or until almost set in the center. Let pie cool to room temperature.
Place the egg whites and cream of tartar in a second large mixing bowl. Beat on medium-high speed with an electric mixer until soft peaks form (tips curl). Add the superfine sugar, 1 tablespoon at a time, beating until the egg whites are stiff and glossy but not dry. Spoon the meringue over the pie filling; make sure to spread the meringue to the edges and use a spatula to form the customary meringue peaks. Bake at 350°F about 10 minutes or until the meringue is golden. Let pie cool before cutting and serving.